Perchè questo libro.. - Because this book..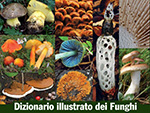 Ho avuto il piacere, insieme ad altri amici quali Federico Calledda e Matteo Carbone, di partecipare con il mio contributo fotografico a quest'ultima Opera del Prof. Riccardo Mazza. Opera eccellente ed originale che merita di essere seriamente considerata per il livello qualitativo intrinseco. Per acquistare il Volume è possibile farlo sul sito www.romar-editrice.it oppure scrivendo a info@romar-editrice.it Il prezzo di copertina del Volume è di € 110,00.
Buy the book on www.romar-editrice.it or write at info@romar-editrice.it The Cover price is € 110,00.
Copertina - Front cover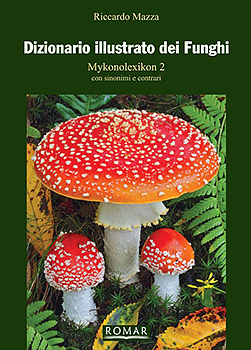 Un libro nuovo sotto ogni profilo, ampiamente illustrato, che affronta la vasta e complessa disciplina micologica in forma di glossario. Elegante sotto la veste grafica e provvista di numerosi capitoli introduttivi, utili sia per comprendere la struttura del libro sia per meglio addentrarsi nell'intricato panorama lessicografico - l'opera è impreziosita da una corposa trattazione iconografica che ospita tavole a colori realizzate a mano e fotografie di alto livello tecnico-scenografico. Impostato sulla falsariga del precedente Volume dello stesso Autore (Mykonolexikon 1, dedicato agli aspetti medico-patologici della materia), il presente Dizionario se ne discosta per i contenuti e per il considerevole numero di illustrazioni, molte delle quali riguardanti funghi commestibili e velenosi (anche mortali) del nostro Territorio, specie del micobiota extraeuropeo, nonché particolari di strutture lichenofungine e vegetali, non sempre documentate in contributi scientifici.
A new book in every respect, fully illustrated, which covers the vast and complex mycological discipline in the form of glossary. With the elegant look and equipped with several introductory chapters - useful both to understand the structure of the book and to better penetrate the intricate lexicographic scene - the book is enhanced by an extensive iconographic features, with color illustrations and photos of high-level technical. Set along the lines of the previous volume by the same Author (Mykonolexikon 1, devoted to medical and pathological aspects of the mycology), this dictionary differs in content and for the large number of illustrations, many of which concerned edible and poisonous (even fatal) mushrooms of European territory, but also the mycobiota outside Europe, as well as details of structures vegetables, not always documented in scientific papers.
Esempio di illustrazione con descrizione - Example of photo with description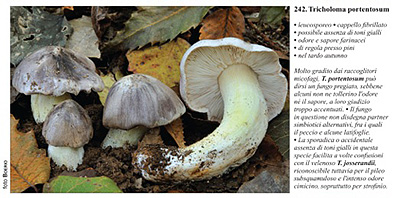 Oltre 11.000 voci considerate - Sinonimi e contrari - Circa 3900 taxa citati - Etimologia riferita ad un elevato numero di lemmi - Più di 1.400 disegni in bianco e nero - 34 tavole a colori con circa 680 funghi rappresentati - Oltre 450 fotografie a colori - Vocabolario inglese-italiano - Indice dei taxa con rinvio ai corrispettivi lemmi - Indice delle piante citate.
Over 11,000 lemmas considered - Synonyms and antonyms - About 3,900 taxa mentioned - Etymology refers to a large number of lemmas - More than 1,400 drawings in B/N - 34 color plates with about 680 mushrooms represented - Over 450 color photographs - Vocabulary English-Italian - Index of taxa with reference to the corresponding lemmas - Index of the plants mentioned.
Eccellenti Tavole a colori - Excellent color Plates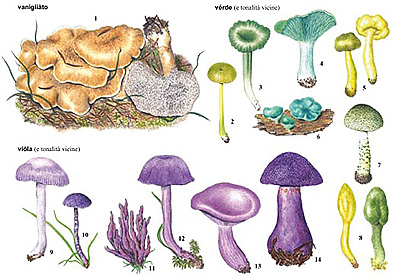 In sintesi, il "DIZIONARIO ILLUSTRATO DEI FUNGHI - Mykonolexikon 2" si propone non soltanto come uno strumento di agile consultazione, ma anche di contribuire ad accrescere l'interesse - nel lettore - verso nuovi orizzonti del multiforme universo micologico, davvero infinito...
In summary, the "DIZIONARIO ILLUSTRATO DEI FUNGHI - Mykonolexikon 2" aims not only as a tool for rapid consultation, but also help to increase the interest - the reader - to new horizons of mycological multiform universe, truly endless ...
Come Autore di alcune delle fotografie a colori contenute nell'opera, sono in obbligo di ringraziare il Prof. Riccardo Mazza per averle ospitate in questo importante e riuscito lavoro.
As Author of some color photos contained in the book, i must to thank Prof. Riccardo Mazza for having hosted my shots in this important and successful work.
Small selection of less common mushrooms